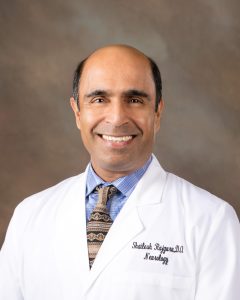 Shailesh Rajguru, DO, FACN
Neurology
Phone (863) 293-1191 x3050
Fax (863) 837-5359
Shailesh Rajguru, DO is board certified in Neurology and a Fellow of the American College of Neuropsychiatry.
Dr. Rajguru is a general Neurologist and his interests include: Parkinson's Disease and Movement Disorders, Memory Disorders including Alzheimer's Disease, Stroke and Cerebrovascular Disease, Epilepsy, Nerve and Muscle Disease.
He has been practicing in Winter Haven since 1999 and joined Bond Clinic in October 2016.
Residency in Neurology 
University of South Florida
Tampa, FL
1996-1999
Internship in Internal Medicine 
University of South Florida
Tampa, FL
1995-1996
Doctor of Osteopathic Medicine 
Kansas City University of Medicine and Biosciences
Kansas City, MO
1991-1995
Professional Memberships/Certifications
AOBNP Bureau of Osteopathic Specialists Representative to the American Osteopathic Association
Fellow to the American College of Neuropsychiatry
American Osteopathic Board of Neurology and Psychiatry, Board Member
Related Articles:
Bond Clinic named the Official Medical Provider for the Florida Tropics
Bond Clinic Neurologist Dr. Shailesh Rajguru Elected Chairman of American Osteopathic Board of Neurology and Psychiatry (AOBNP)