Winter Haven, FLA – On April 5, 2022, members of the American Osteopathic Board of Neurology and Psychiatry gathered virtually for their Annual Election. The members, comprised of Neurology and Psychiatry Physicians across the country, voted to elect Shailesh Rajguru, DO, FACN as their 2022-2025 Chairman.
 Dr. Rajguru has been involved with the Bureau of Osteopathic Specialists (BOS) since 2016 and has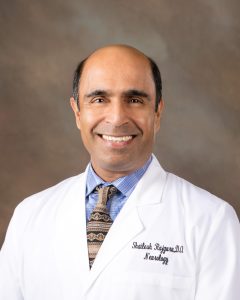 served on different committees such as Standards Review Committee, Certification Compliance Review Committee, and the Conjoint Certification Oversight Committee. In addition, he has been a member of the AOBNP since August 2013 and the Secretary of the Board since August 2016.
When asked about being elected, Dr. Rajguru stated, "I am extremely honored, humbled, privileged to have been elected as the new Chairman. If I can improve the lives of our neurology and psychiatry diplomates through a clear understanding and importance of Osteopathic Board certification and other programs over my term, then I have done my job."
As Chairman, Dr. Rajguru will be responsible for the operational governance of the board as a whole, maintaining healthy relationships with the American Osteopathic Association (AOA) as well as the American College of Neuropsychiatry (ACN), and ultimately serving in the best interest of the neurology and psychiatry diplomates.
When asked what his goals will be as chairman, Dr. Rajguru stated, "Since the voting results were announced on April 5, trust me, I got right to work on planning. We have a lot of work to do. In my opinion, there is no time to celebrate right now. We can celebrate once we have reached a level of stability and some immediate goals achieved." His term will begin on August 1, 2022, for three years.
Dr. Rajguru has a very clear perspective of the role of a leader, "leadership requires conviction, communication, and courage. Leadership inspires others to do what's right, not just telling people what to do. My board members know that I work for them, not that they work for me." This philosophy has been evident throughout his career as a Neurologist in Winter Haven. He began his practice in 1999 after attending the Kansas City University of Medicine and Biosciences for his Degree in Osteopathic Medicine and his Internship and Neurology Residency at the University of South Florida.
Dr. Rajguru is board certified in Neurology and a Fellow of the American College of Neuropsychiatry. He joined Bond Clinic in 2016 and has been a great asset to the Bond Clinic team, including spearheading a new Nova Southeastern Student Doctor program.