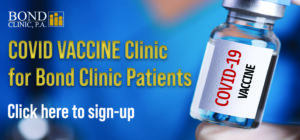 4/15/2021 Information on COVID Vaccine for our patients.
Bond Clinic is now happy to offer COVID Vaccine sign-ups directly to our patients.  To be eligible, you must be an established patient of Bond Clinic, 18 or older and complete this form. Once the vaccine is available, you will be contacted by a team member at Bond Clinic to schedule your appointment. 
---
During the last 72 years, you have trusted Bond Clinic with the healthcare of your family.  As we continue to monitor the COVID 19 Pandemic, we strive to keep our community safe.  Please review the most up-to-date information below pertaining to our policies and procedures.  We are committed to our patients and team members.
Masks are required by all team members, patients and visitors

.  Anyone not wearing a mask will be asked to reschedule their appointment.  Please wear your mask properly by covering your nose and mouth.
If you currently have COVID 19 symptoms or have had symptoms recently, please call your physician before coming to the office.  This includes: fever, cough, shortness of breath and changes in taste and smell.  We have specific procedures for treating patients with symptoms.
Wash your hands with soap and water for 20 seconds frequently and use the hand sanitizer available throughout our campuses.
Observe social distancing during check-in and in waiting rooms.  We have installed bright, social distancing reminders at all check-in areas.  Also, chairs have been spaced.
Be prepared to be screened at our large campuses including: Main Campus, Downtown Campus and First Street Campus.  Our screeners are doing a wonderful job and we have not had lines; however, please allow a few extra minutes prior to your appointment.
Patients will receive preliminary screenings by phone prior to their appointment.
We are regularly cleaning frequently touched surfaces.
Team members receive additional screenings at the start of their shift.
Please use main entrances at the Main Campus, Downtown Campus and First Street Campus .  We have closed side entrances (when possible) to insure every person is screened.
We are encouraging "patients only" at office visits when possible.
A few helpful reminders from Juan Rivera, MD, Bond Clinic Medical Director and Internal Medicine Physician.
TeleMedicine Appointments Available
TeleMedicine has become a popular service as patients look for more convenience and flexibility with their medical appointments.  Any patient at Bond Clinic can request a TeleMedicine appointment and it's easy!  Simply call your provider and make your request with the receptionist.  Most Bond Clinic providers do offer TeleMedicine appointments and the staff will walk you through the process.
For more information and Frequently Asked Questions, watch this short video and visit our TeleMedicine Page.