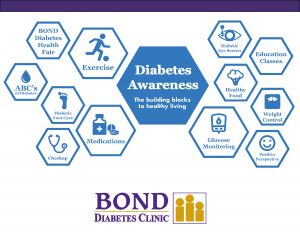 Bond Clinic offers a full team of medical professionals at our Diabetes Clinic and this department is dedicated to helping you achieve a new level of healthy living with your diagnosis. Dr. Ganesh Nair and Dr. Jessica Castellanos are both Endocrinologist and are joined by Bobbie Skukowski, ARNP and Jill Harbison, Registered Dietitian. Both Bobbie and Jill are Certified Diabetes Educators, and Bobbie is also board certified in Advanced Diabetes Management.
Symptoms of diabetes may include:
Blurred Vision
Frequent thirst
Frequent urination
Unexplained weight loss
In addition to your everyday care, our Diabetes Clinic offers many educational classes. *The Bond Clinic Diabetes Education Classes have been recognized by the American Diabetes Association for Quality Self-Management Education.
Step One:
–2022 Pre-Diabetes Class Dates: Have you been told you are "Borderline Diabetes" or have a "Touch of Diabetes?" Then consider attending our Pre-Diabetes Classes. Click here to download a printable schedule.
Step Two:
-Diabetes Self-Management Education Classes. These classes are held twice a month during daytime and evening hours.  Call for upcoming dates
Step Three:
–2022 Diabetes Self-Management Education Refresher Class Dates: These classes are intended for patients who have attended the 9 hours Diabetes Self-Management Education classes.  Click here to download a printable schedule.
Our Annual Diabetes Health Fair:
Beginning in 2002, our staff at the Diabetes Clinic felt the need to add an annual educational health fair for their patients and the community.  Since that time, this event has become the largest diabetes specific health fair in the area, as well as, a resource for the community where they can hear seminars from Bond Clinic providers and connect with vendors offering the latest information about diabetic medications and resources.  Be watching for the 2021 save the date!
If you are suffering from any of these symptoms or would like more information about diabetes, please call the Bond Diabetes Clinic at (863)-293-1191, ext. 3511.