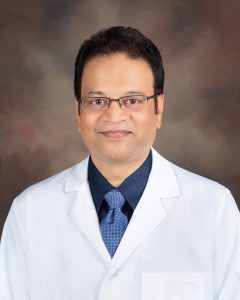 Ganesh Nair, MD, FACP, FACE
Endocrinology & Diabetes
Phone (863)293-1191 x3611
Fax (863) 508-2213
Ganesh Nair, MD is board certified and specializes in Endocrinology, Diabetes and Metabolism.  He is also a Fellow of the American College of Physicians and American College of Endocrinology.
Dr. Nair practices adult Endocrinology with special interest in managing Diabetes, Thyroid disorders (including thyroid nodule biopsies,) Osteoporosis, Hyperparathyroidism, Disorders of calcium and mineral   metabolism, Pituitary disorders, Low Testosterone and Adrenal disorders.
Dr. Nair has been practicing since 2002 and joined Bond Clinic in 2019.
Fellowship in Endocrinology, Diabetes and Metabolism
University of Arkansas for Medical Sciences,
Little Rock, AR
1999-2001
Chief Residency in Internal Medicine
Temple University, Conemaugh Memorial Medical Center
Johnstown, PA
1998-1999
Residency in Internal Medicine
Temple University, Conemaugh Memorial Medical Center
Johnstown, PA
1995-1998
Internship
Medical College Trivandrum, University of Kerala
India
1990-1991
Medical Degree
Medical College Trivandrum, University of Kerala
India
1984-1989