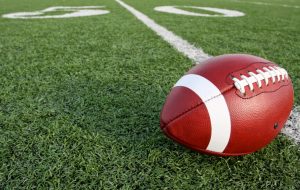 Fall high school sports are in full swing here in Florida. Perhaps the most American, and best loved of all high school games is football. From the start of summer training camps to the first kick-offs, high school students around the area are gearing up for the big game. Unfortunately, in addition to the excitement of potential touchdowns comes the probability of a few unwanted injuries.
Knees, legs and ankles – Tears in ligaments, muscles, and tendons as well as sprains are the most common knee injuries. Common leg injuries include strains and tears to the hamstring, quadriceps and calf muscles. While broken bones in high school football are not as common, they can occur. Ankle sprains can sideline an athlete for a few days to several weeks depending upon the location and severity of the injury.
Shoulder – Because of the high level of contact in football, fractures of the collarbone are common season-ending injuries for high school players. Other typical shoulder injuries include separations and dislocations.
Concussion – Head injuries are generally the most serious of all football related trauma. Also known as traumatic brain injuries, concussion symptoms should never be ignored. These might include confusion, headache, vision issues, dizziness, ringing in the ears, balance issues, numb or tingling extremities and nausea. It is important to remember that even if symptoms are not present at the time of a hit, the player could still be concussed.
Back and Neck – Back and neck injuries can include strains, sprains, ruptured discs and fractures. It is important to take extreme caution with suspected back and neck injuries as they could result in paralysis.
The best way to prevent injuries is to take the proper precautions. This includes using the correct equipment and ensuring it is in good working order. As well as examining the competition or practice facilities for any potential hazards.
At the Bond Clinic, we offer all-inclusive sports medicine programs to treat a player's injuries and get them back in the game as quickly as possible. We provide comprehensive treatment plans as well as a return to play protocol to ensure athletes are ready for competition. And, if the surgical treatment is required, our board certified Orthopedic team is ready to help. At Bond Clinic we would like to wish our local high school football teams a safe and successful year.