Dear Bond Clinic Patients,
We wish to inform you that Dr. Robert Lerner, Orthopedic Surgeon, retired from his practice at Bond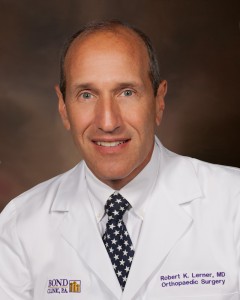 Clinic, P.A., effective December 31, 2021.  Dr. Lerner has been part of the Bond Clinic team for over 35 years, and we wish him the best in his new season.
For continuation of care, we are pleased to offer a great Orthopedics & Sports Medicine team, including non-surgical and surgical options. We have listed them below for your convenience, and they are all accepting new patients. To schedule an appointment, please call (863) 293-1191. You can learn more about your Orthopedic & Sports Medicine options at Bond Clinic by click on the profile links below.
For records requests, you may call 863-293-1191 ext 3256. Keeping you and your family in the best health possible is our highest priority. Thank you for choosing Bond Clinic for your healthcare needs.
Sincerely,
Bond Clinic
Surgical
Paul Morin, MD, board certified in Orthopedics and Sports Medicine

East Campus, 3000 Woodmont Ave, Winter Haven / Phone: 863-293-1191 ext 3530
Non-Surgical
Weilin Liu, DO, board certified in Family Medicine and Sports Medicine

Main Campus, 500 E Central Ave, Winter Haven / Phone: 863-293-1191 ext 4132

Andrew Teffeau, DO, board certified in Family Medicine and Sports Medicine

Davenport Campus, 410 Lionel Way, Davenport / Phone: 863-293-1191 ext 4155