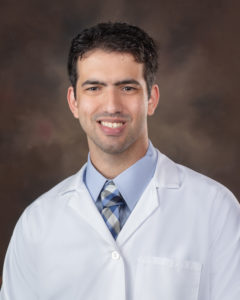 Triantafilos Iakovidis, DPM
Podiatry & Foot Surgery
Phone (863) 293-1191 ext 4160
Fax (863) 508-2215
Bond Clinic is excited to announce Podiatry & Foot Surgery specialist, Triantafilos Iakovidis, DPM.  Dr. Iakovidis' office is conveniently located at our First Street Campus.  He specializes in diabetic foot care, plantar fasciitis, arthritis/joint pain and ankle arthroscopy.
His surgical interests include, but are not limited to: the Kidner Procedure, Endoscopic Plantar Fasciotomy, and corrections for Bunions, Hammertoe, and Haglund's Deformity. Please see a full list of conditions and procedures below.  Dr. T. Iakovidis is accepting new patients and joined Bond Clinic in 2023.
Podiatry Medicine & Surgery Residency
Lower Bucks Hospital
Bristol, PA
2020-2023
Podiatric Preceptorship
Foot and Ankle Center of Philadelphia
Philadelphia, PA
2019-2020
Doctor of Podiatric Medicine
Barry University School of Podiatric Medicine
Miami, FL
2015-2019
A note from Dr. Triantafilos Iakovidis:
Before the Bond Clinic, I was at Lower Bucks Hospital in Bristal, PA where I completed a Podiatric Medicine and Surgery Residency with a credential in Reconstructive Rearfoot/Ankle Surgery.  In my office, for whatever condition or issue you may have with your feet and ankle, I prefer to give patients multiple treatment options, so that they can find an option that works best for them.  My goal with any visit is not just for patients to feel satisfied with their treatment/treatment plan, but for them to understand.  I will always encourage patients to ask questions during their visit.
Dr. T. Iakovidis is proficient in treating:
Achilles tendonitis
Acute and chronic lower leg wounds
Ankle instability
Application of wound VAC's
Arthritis/joint pain in foot and ankle
Bunions
Flat feet
Ganglion cyst
Haglund's deformities
Hammertoes
Heel pain
Heel spurs
Ingrown toenails
Nail fungus
Neuromas
Onychomycosis
Pes Planus
Plantar fasciitis
Plantar foot warts
Pressure wounds
PTTD
Talar dome lesions
Tarsal tunnel syndrome
Tendonitis
Tinea pedis
Venous stasis dermatitis
Dr. T. Iakovidis specializes in the following surgeries and procedures:
Achilles tendon lengthening
Ankle arthroscopy
Bunion correction
Debridement of wounds, incision and drainage of abscesses
Endoscopic plantar fasciotomy
Excision of soft tissue masses
Hammertoe correction
Haglund's deformity correction
Kidner procedure
Lateral ligament stabilization
Nerve decompression
Preparation of wound bed with application of grafts
Subtalar joint arthrotomies
Tendon tear repair/augmentation
Use of bone tendon anchors