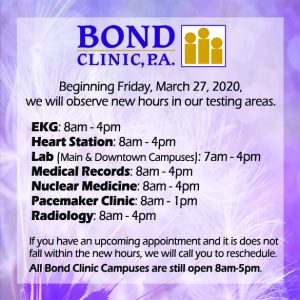 Beginning Friday, March 27, 2020, Bond Clinic has temporarily adjusted it's hours in our testing areas.  Please see the departments listed below:
EKG: 8am-4pm
Heart Station: 8am-4pm
Lab (Main Campus & Downtown Campus): 7am-4pm
Medical Records: 8am-4pm
Nuclear Medicine: 8am-4pm
Pacemaker Clinic: 8am-1pm
Radiology: 8am-4pm
If you have an upcoming appointment and it does not fall within the new hours, we will call you to reschedule.
All Bond Clinic Campuses are still open 8am-5pm and unless you are contacted by your provider, you may keep it as normal.
We do ask that you communicate in advance if you are having any symptoms of cough, fever or shortness of breath prior to coming to the clinic.
You're in Good Hands at Bond Clinic!