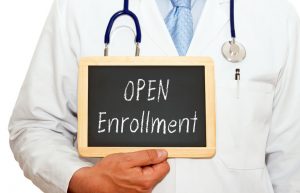 Each year, Medicare allows people who are eligible for Medicare benefits to take part in a period of Medicare open enrollment. This allows people who qualify for Medicare Parts A and B to enroll in Medicare plans without having to worry about not qualifying because of any pre-existing conditions or health problems that they might have.
The period of time for Medicare Open Enrollment 2017 will occur from October 15, 2016 to December 7, 2016. People will be able to shop the different plans.
The plans themselves are sold by private insurance companies which must comply with the standards that are set by the Centers for Medicare and Medicaid (CMS). There are basically two types of plans that are available to Medicare Enrollees, the Medicare Advantage Plan, and the Medicare Supplement type of plan, or the Medigap Plan as it is also called.
The Medicare Advantage Plan overlays original Medicare and actually becomes the Medicare plan for the participant during the time he or she is covered with the Advantage Plan. The best way to describe the benefits is to compare them to a good employer group insurance plan. There is usually a small deductible, along with doctor co-pays and co-insurance. There is also full hospitalization coverage along with provisions for prescriptions and lab tests.
The cost of the plan to the participant is subsidized by CMS, so in most cases the month to month cost is very small, and in some cases there is no premium cost at all to the Medicare participant. Advantage plans are also called Part C Medicare plans, to differentiate from Medicare Part A (hospital coverage) and Medicare Part B (doctor coverage).
Advantage plans for 2017 are restricted to certain geographic areas and have a network of participating doctors and hospitals. Therefore an individual contemplating the purchase of an Advantage plan would be wise to investigate the doctor and hospital list before signing up to be sure that their doctors and hospitals of choice are included.
The second form of Medicare coverage, the Medicare Supplement or Medigap plans are supplement policies that for the most part are purchased right when a person turns age 65 during the open enrollment period for that type of policy which is a 6 month period of time that begins the month that a person turns 65 and is enrolled in Part B Medicare coverage. A person can enroll in a Medigap plan even if they have health problems. After this period a person will have to medically qualify if they wish to enroll in another Medigap plan, unless various exceptions apply.
A Medigap policy works hand and hand with original Medicare, as it picks up much of the deductions and co-pays that is part of the Original Medicare structure. Medigap plans are not restrictive to area and they can be used with any doctor or hospital that accepts Medicare. There are 10 versions of Medigap plans from which to choose, and more can be learned by going to http://www.medicare.gov and researching for more detail.
People should study carefully the plans that are available to them and take advantage of their Medicare Open Enrollment 2017 when the time comes to do so.
In order to help you with this decision, Bond Clinic will be scheduling several seminars in the upcoming weeks.
All events are free and open to the public. They take place in the Steele Building, 4th floor Conference Room on the Main Campus.
November 10: 10:00 – 12:00 Florida Blue
November 14: 9:00 – 10:30 Humana, Seminar
November 15: 10:00 Careplus, Seminar
November 16: 10:00 – 12:00 United Healthcare, Seminar
November 17: 1:00 – 3:00 Florida Blue
November 21: 9:00 – 10:30 (English), 11:30 – 1:00 (Spanish) Humana, Seminar
November 28: 9:00 – 10:30 (English), 11:30 – 1:00 (Spanish) Humana, Seminar
November 30: 1:00 – 3:00 United Healthcare, Seminar
December 1: 10:00 Careplus, Seminar
December 5: 9:00 – 10:30 (English), 11:30 – 1:00 (Spanish) Humana, Seminar
Deember 7: 10:00 – 12:00 United Healthcare, Seminar