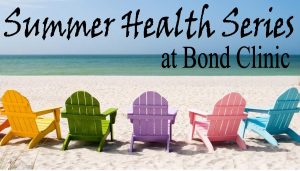 Bond Clinic is proud to present our FREE Summer Health Series. A variety of topics are being presented and have been designed to be informative, fun and helpful. All seminars are free and open to the public. Please RSVP to secure your seat, space is limited.
Habits of Happy People – Tuesday, August 2 @ 10am
Happiness is a choice and a way of living that anyone can learn. Discover how you can find more joy in every party of your life. You'll also learn tips for staying positive during life's challenges.
Protect Yourself Against Scams – Thursday, August 18 @ 11am
The price of scams against seniors is much more than financial. Find out why seniors are targeted, the toll it can take on your health and how to protect yourself.
Is Stress Making You Sick? – Wednesday, August 31 @ 10am
Too much stress can have negative effects on the body and mind. Find out how stress may be leading to illness and ways to stay healthy under pressure.
All events will take place in the Steele Building, 4th Floor Conference Room at Bond Clinic's Main Campus; 500 E Central Avenue, Winter Haven, FL 33880.  TO RSVP call 863-293-1191 ext3351
Click Here for a Printable Schedule