September 25, 2023 (Winter Haven, FL) – The Winter Haven City Commission has proclaimed September 2023 'Bond Clinic Month' in celebration of its 75th Anniversary at a recent meeting on Tuesday, September 12, 2023.
During their 75th anniversary, the company is rallying behind four main pillars of support for its team and patients. These pillars include; quality care & professional service, continued community support, increased access, & reduced medical costs. This initiative will provide ongoing and exciting changes internally/externally for the clinic throughout the year.
Mayor Bradley T. Dantzler signed and presented the proclamation, along with Mayor Pro Tem Nathaniel J. Birdsong Jr., Commissioner L. Tracey Mercer, & Commissioner Brian Yates to Bond Clinic P.A. CEO and Board President Dr. Panagiotis Iakovidis, Medical Director Dr. Juan Rivera, Board Member Dr. Christopher Lopez, Marketing Director Ashley Scanlan, & Assistant Marketing Director Jared White.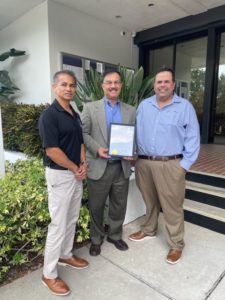 "We are honored to be recognized for this achievement and to the dedication of our providers & team," says Dr. Panagiotis Iakovidis. "As we look forward to the next 75 years, we promise to continue to provide high quality access to our doctors at very affordable costs to Winter Haven and the community."