Living with heart disease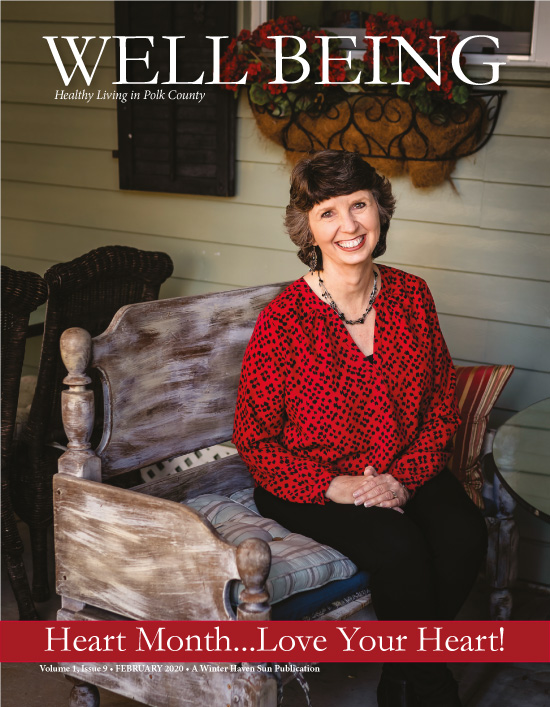 By ANITA TODD, Contributing Writer
WINTER HAVEN – Every year, one in three women will die of heart disease making it the number one killer of women, killing more women than all forms of cancer combined.
Two local women battle heart disease daily. If they could give one bit of advice to readers it is: "Don't Ignore the Signs."
Pam Cunningham
It was 2013 and Pam was 51 when her life changed as she was getting in the shower. The next thing she remembers is waking up on the bathroom floor.  Her husband took her to the Winter Haven Hospital where she was kept overnight for observation.  During this time it was discovered that she was having a 2 second pause in her heart beats.  Pam was released and followed up with Dr. Edgar Willard, her cardiologist at Bond Clinic.  "God truly blessed me by giving me him as my cardiologist," she said.
Dr. Willard referred her to an Electrophysiologist in Lakeland who performed an EP study on her that confirmed she needed a pacemaker and diagnosed her with Sick Sinus Syndrome. The sinus node is an area of specialized cells in the upper right chamber of the heart that controls the rhythm of your heart. Normally, the sinus node produces a steady pace of regular electrical impulses. In sick sinus syndrome, these signals are abnormally paced. The syndrome is relatively uncommon, but the risk of developing it increases with age, according to mayoclinic.org.  "Our bodies have a natural pacemaker but mine wasn't working," she explained.  Pam had surgery in August 2013 to insert a pacemaker.  "Immediately after the surgery, I felt wonderful," Pam said. "I didn't realize the symptoms I was having." Symptoms like lightheadedness, tiredness, shortness of breath. "I was sitting up in bed right after coming out of the operating room thinking, 'Wow! This is great.'"
Fast forward to 2017. Pam had enjoyed four years of good heart health. In fact, she was preparing for an obstacle course challenge when she began having a strange pain. Even though she hadn't had problems with her heart during that time, she'd had a battle with breast cancer, so she was a little more careful with aches and pains than before.
"I had a pain in my ribs on my left side when I laid down," she said. "I tried to make excuses for it but finally had to admit that there may be a problem."
And, there was a problem: One of the pacemaker's leads had shifted and punctured her heart.   Approximately 5 weeks later she woke up early due to severe chest and back pain.
Another trip to the hospital showed an acute attack of pericarditis. The lead puncturing the heart had caused inflammation around the heart creating fluid and causing the chest pains.  She ended up having a pericardial window and the lead removed and a new one put in.  She was prescribed steroids that over the next seven months caused her to gain weight.
For months, Pam battled pericarditis and was only able to relax in a recliner since activity could cause another pericarditis attack.  Thankfully, it has now been a year since the last one.   Pam stated, "things aren't the same and I'm not 100 percent, but I'm back in the gym and very grateful," she said.
She knows that God has provided the best medical teams available along with her family – she's been married to her husband, Jay, for 40 years – and friends who have been there for encouragement.
"I am so blessed. God has been looking over me," she said. "I always knew that God would get me through it. I knew He would either heal me here on earth or in Heaven."
She said because of that assurance she was never afraid. "I'm only frustrated that I can't do the things I used to do."
Donna Gerard
Donna has never had a day in her life without heart issues. Seventy-three years ago, she was born with a ventricular septal defect or a hole in the wall between the heart's lower chambers. The diagnosis is rare and today affects less than 200,000 newborns every year.
David Varn, a physician in Fort Meade back then, diagnosed the problem with a simple stethoscope.
As a child, Donna said she had very few problems.
"I fainted a few times when I was overtired but nothing major in elementary school," she said.
When she was 13, she and her parents set off to the Presbyterian Hospital in Philadelphia on the advice of Varn. There, a heart catherization was performed to determine the actual size of the hole.
Over the years, she had x-rays and electrocardiograms and has been a patient at numerous hospitals. Now, she's had a total of five heart caths that were all a bit nervewracking. But, she said the scariest was in 1960 for that teenage girl in the big city of Philadelphia.
"I was awake – sedated – but awake and I could see the monitor at the foot of the bed," she said. "I watched as they went through my arm with the tubes up to my heart."
The most recent heart cath was four years ago at the Cleveland Clinic. Her cardiologist, Dr. Willard, the same as Pam Cunningham, recommended she go there to have the size of the hole evaluated. He wanted to know if it was getting bigger.
"I was having some problems – chest pains and shortness of breath," she said. "But, the cath was just another day because it's all I've every known."
Married to Alick Gerard, III, for 33 years, the petite Lake Wales resident said she takes her medication daily as directed; and has blood work, an electrocardiogram and echocardiogram performed twice a year.
And, for the most part, she said she's able to enjoy life. She has a lot of energy and likes working in the yard, and spending time with family – especially her grandchildren.
Coincidentally, during quadruple bypass surgery seven years ago, surgeons found a hole in her husband's heart.
She said they try to eat sensibly but "blow it" on the weekends and have never been smokers.
"I like to have fun and enjoy life. I don't like to complain," she said. "If I put a smile on my face and one on someone else's, I've had a good day."
Editor's Note: At the time of publication, Donna is hospitalized after passing out the day of our interview.  Tests are being conducted to determine a diagnosis.
Since February is American  Heart Month, women are encouraged to "Go Red" and fight back.
Here's what it means to Go Red.
G: GET YOUR NUMBERS. Ask your doctor to check your blood pressure and cholesterol.
O: OWN YOUR LIFESTYLE. Stop smoking, lose weight, exercise, and eat healthy. It's up to you. No one can do it for you.
R: REALIZE YOUR RISK. We think it won't happen, but heart disease kills one of three women.
E: EDUCATE YOUR FAMILY. Make healthy food choices for you and your family. Teach your kids the importance of staying active.
D: DON'T BE SILENT. Tell every woman you know that heart disease is the number one killer of women.
Pam Cunningham has worked at Bond Clinic since December of 1992.  She is an Administrative Assistant/Credentialing Coordinator and was the 2019 recipient of the Bond Clinic Employee of the Year Award.