October is Breast Cancer Awareness Month, which is an annual campaign to increase awareness of the disease. Breast cancer does not discriminate, it sees no Age, Income level, Race, Religion, nor Gender. It sees no Fame status, chooses not based on how many Facebook friends one has.  Breast cancer Happens.  All people, male & female, are born with breast cells and tissue. Though males do not develop milk-producing breasts, the male breast cells and tissue are still very capable of developing cancer. Even so, male breast cancer is very rare. Less than 1% of all breast cancer cases develop in men, and only one in a thousand men will ever be diagnosed with breast cancer. It is important to understand, men carry a higher mortality rate than that of women, primarily due to the lack of awareness. The average male would typically put off seeking treatment because they simply assume it's not breast cancer. Statistically speaking, approximately 65% of people with breast cancer have no known pre-existing risk factors.    Knowing your risk factors can be the key to detection and even prevention.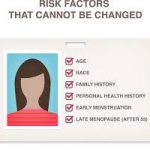 Risk Factors
Radiation exposure.

High levels of the hormone estrogen.
      3. Family history of breast cancer, especially, breast cancer that is related to the BRCA2 gene.
*For more personal information on Risk Factors and Mammograms, talk to your doctor. Bond Clinic Cares.  Feel free to call 863-293-1191