This week marks the annual start of Women's Health Week. Each year, the U.S. Department of Health and Human Services helps raise awareness about women's health, as well as inspires women to prioritize and improve their wellness. Taking care of your health is one of the greatest gifts you can give yourself and your loved ones, and luckily, it's never too late to commit to these wellness habits.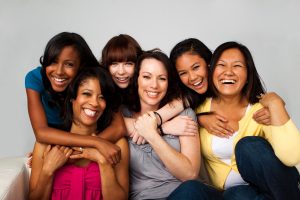 Schedule a Well-Woman Checkup
Life can be hectic, and it's easy to forget to schedule a routine wellness exam. Preventative care and screening, however, can catch problems in their early stages while they are easier to treat. See here for a list of recommended screening tests for women.
Resolve to Eat Healthier and Exercise More
Sadly, heart disease is the leading cause of death for women in the United States, and two-thirds of all U.S. women die from chronic health conditions. Regular exercise and a healthy diet can help reduce the risk of chronic conditions like heart disease and diabetes.
The CDC recommends women get at least two and a half hours of aerobic exercise each week, and in engage in strength-building activities as least twice a week.
Strive to eat whole foods such as fresh fruits, vegetables, whole grains, and lean proteins while lowering consumption of sugars, salt, trans-fats, and alcohol.
Practice Mindful Health Habits
Reduce your risk of illness and injury with these healthy habits:
Getting a good night's sleep
Wearing a seatbelt when driving and a helmet when biking
Avoiding texting while driving.
Take charge of your health by scheduling your wellness exam today, and resolving to practice positive health habits each day.
Bond Clinic in Winter Haven, Florida has been "treating our community well" since 1948. Our Women's Health Center was designed to be a one-stop shop for women's health, from diagnostics to gynecology and obstetrics, and even medical spa services. Offering advanced technology such as 4-D ultrasound and 3D digital mammography, we create a relaxing environment while providing state-of-the-art diagnostics and treatment. Please call (863) 293-1191 ext. 3573 to schedule an appointment, or visit our site to find out more.