Are you turning 65 in 2020? Do you know your Medicare options? We understand that this important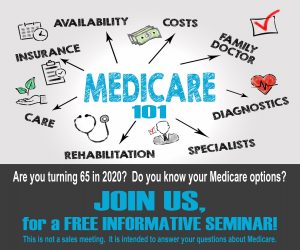 transition can be overwhelming, which is why we are excited to offer four Medicare 101 seminars in 2020.
These are informative sessions that will cover the basics of Medicare. They are not a sales meeting and there will be no information on Medicare Advantage Plans etc. This is simply an introduction into the world of Medicare coverage.
We recommend for you to begin your research several months prior to your birthday so that you are ready to start your coverage as soon as possible.
These seminars are FREE and are open to the public and Bond Clinic patients. Please contact us today to reserve your seat at 863-293-1191 ext. 3351 or ext.3286.
All seminars will be held at the Bond Clinic Main Campus – 4th Floor Steele Conference Room. The address is 500 E Central Ave, Winter Haven, FL 33880
Wednesday, February 12, 2020 – 11:00am
Monday, March 9, 2020 – 10:00am
Thursday, May 21, 2020 – 10:00am
Tuesday, July 14, 2020 – 3:00pm