Do you have questions about COVID-19? Would you like to hear from your local clinic? We invite you to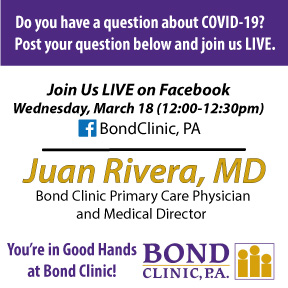 join us on Facebook Live. You can go to the post now and leave your question in the comments or simply post during the live feed. We will do our best to answer your questions and point you to the local resources.
Wednesday, March 18
12:00-12:30pm
Facebook: BondClinic, PA
You're in Good Hands at Bond Clinic and we ask for you to share this information with anyone you think would benefit from watching.