Today (November 2, 2020) is Job Action Day!
This day is to recognize those who have achieved their dream job and to inspire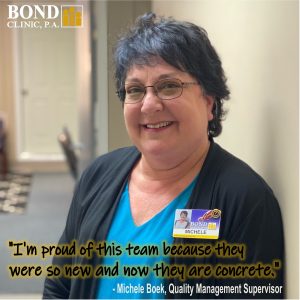 and empower others to reach their goals. A team member that embodies the spirit of Job Action Day is Michele with the Quality Management Department. Following her loyal service and many years working with providers, she received the opportunity to champion a new department that would further Bond Clinic's commitment to our mission of high quality and compassionate care.
The
Quality Management Department
is the backbone of Bond Clinic's care. The various team members in this department are responsible for assisting providers in improving patient health outcomes by presenting proper tools for tracking patient's health and well-being. These valuable positions represent among the finest services Bond Clinic has to offer, such as patient education on health screenings, patient advocates for long term care, communicating patient information with insurance providers, and maintaining a congruent relationship between hospitals and Bond Clinic.
The Quality Management Department invites
CMAs, LPNs, RNs,
and those with clinical experience to consider the opportunity to be a vital part of the
Bond Clinic team
!