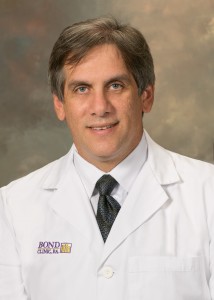 Jesse Romeu-Velez, MD, FACP, FCCP
Pulmonology & Sleep Medicine
Phone Phone 863-293-1191 x3463
Fax Fax 863-837-5346
Jesse Romeu-Velez, MD is board certified in Pulmonary Disease, Critical Care Medicine, Sleep Medicine and Internal Medicine.  Dr. Romeu-Velez joined Bond Clinic in 2012.
Fellowship in Critical Care Medicine
State University of New York
Health Science Center
Syracuse, NY
1995
Fellowship in Pulmonary Medicine
The New York Hospital Medical Center of Queens affiliated with Cornell University
Queens, NY
1994
Residency in Internal Medicine
Booth Memorial Medical Center
Queens, NY
1992
Internship in Internal Medicine
Catholic Medical Center
Queens, NY
1990
Medical Degree
San Juan Bautista School of Medicine
Caguas, Puerto Rico
1988
Related Articles
Video – What do you need to know about COPD?