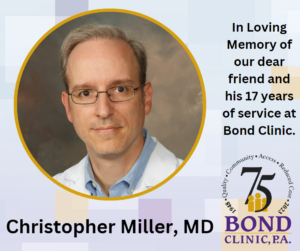 On Wednesday, January 18th, 2023, we received word that our longtime friend and former Bond Clinic physician, Dr. Christopher Miller passed away after a long battle with Leukemia.  He chose to retire from his practice in 2020 after 17 years of service to our patients. During his time here, he was loved by his endocrinology patients and developed a full diabetes department. He will be deeply missed by all of us at the clinic and those patients he served.   Please see the full obituary below.
_________________________________________
On Wednesday, January 18, 2023, Christopher Douglas Miller, loving husband, physician, family member and friend, passed away at the age of 54.
Christopher was born in Point Pleasant, West Virginia, on May 8, 1968, to Douglas and Carolyn (Gauntz) Miller. He received his bachelor's degree from the Wharton School of the University of Pennsylvania in 1990. He received his medical doctorate from Georgetown University School of Medicine in 1994. He completed his internship and his residency in internal medicine at the University of West Virginia Hospitals in 1998, and his endocrinology fellowship at the Emory University School of Medicine in 2001. Christopher practiced as an endocrinologist at Bond Clinic, Winter Haven, from 2003 to 2020, when he retired after seventeen years of service.
On January 5, 2001, he met his husband Charles Robert (CR) Junkins, in Atlanta, Georgia, and on October 29, 2015, they were married in Winter Haven, Florida. Christopher became a highly skilled photographer and photo-editor, and after his retirement to Leicester, North Carolina, he discovered a love of gardening, especially flowers. Dahlias, hostas and cosmos quickly became his favorite plants.  He will always be remembered for his mischievous grin, his dry humor, and his unashamed love of Dr. Who, Star Wars, and The Phantom of the Opera.
Christopher was preceded in death by his mother, Carolyn. He is survived by his father, Douglas E. Miller, his husband, CR Junkins, his sister, Sirena Miller Lambert, his brother, Todd Miller, his nieces, Hanna h Wissler and Rachel (Wissler) Frazier, his nephew Daniel Wissler, and his great niece, Kolbie Frazier, and countless devoted friends.
A funeral service will be held on Saturday, February 18, 2023, at St. Joseph Catholic Church, 532 Avenue M NW, Winter Haven Florida, at 10:00 a.m. A second memorial service will be held in Meyersdale, Pennsylvania, in the spring. In lieu of flowers, the family has requested donations to either the American Cancer Society or the Moffitt Cancer Center, Tampa, Florida.