HAVEN Magazine, August 2020 Issue
Words by: Tara Crutchfield
The ongoing coronavirus pandemic has affected the health of many directly. For others, interruptions in daily routines have meant changes in their diet and exercise habits.
We spoke with Registered Dietitian and Diabetes Care and Education Specialist with Bond Clinic, Jill Harbison, MS, RD, LDN, DCES, about ways to begin and/or keep healthy habits during COVID-19. Harbison has been with Bond Clinic as a diabetes educator for 14 years and has been a dietitian for 35.
Work With What You Have
First, it is important to understand that nutrition is individual to each person, says Harbison. She discovered great information through her research that made a lot of sense to her in terms of eating during COVID-19.
Harbison agreed with points from an article on WebMD.com, "Healthy Cooking With What's in Your Pantry." The first thing is, "Do the best you can." This means working with what you already have. The next step is to "Take stock of your pantry," and finally, "Make a meal list."
Harbison noted that though there were shortages and limited quantities in grocery stores when the virus first appeared stateside, "We're far enough into COVID now that you go to the grocery store and if you did want to get something you should be able to stock your pantry."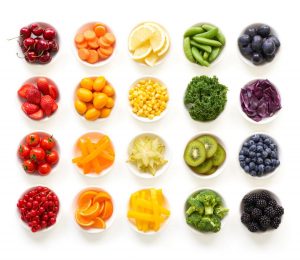 Plan what you need to make meals at home and keep a running grocery list. "In general, when you're looking at healthy eating, […] stay around the parameter of the grocery store. You'd be looking for plenty of fruits and vegetables, whole grains, lean meats – focusing on your healthy fats, not your saturated fats," said the Registered Dietitian.
"With COVID, people are more stressed and together, and maybe they find comfort in chocolate and chips and cookies. Instead of trying to be moderate, people in some cases are going overboard because those are their comfort foods," she said. Keep moderation in mind, but limit processed foods that are high in sugars and sodium.
According to Harbison, a valuable food choice resource with more information for all age groups and other nutrition-related topics to check out is ChooseMyPlate.gov.
Get Creative with Your Daily Exercise
According to the American Heart Association, adults should get, "at least 150 minutes per week of moderate-intensity aerobic activity or 75 minutes per week of vigorous aerobic activity, or a combination of both preferably spread throughout the week."
Harbison suggested doing what works for you, like breaking that down into 30 minutes of exercise, five times a week.
With many working from home or perhaps not comfortable returning to the gym just yet, there are ways to get creative with your workouts. Harbison suggests using the wealth of information on YouTube to find things like chair exercises, soup can exercises and even dancing.
Keep up with your exercise habits, even if it means finding different ways to do it, like walking the neighborhood or riding your bike.
In addition to doing the best you can, Harbison noted the importance of moderation. "It's about finding a small change that will prevent you from going too far off of your health standard."
WebMD Article:
www.webmd.com/lung/healthy-cooking-pantry#1
Eat The Rainbow!
RED
Red fruits and vegetables contain phytochemicals including anthocyanins and lycopene. Studies suggest that a diet rich in anthocyanins can be beneficial for healthy skin, protecting against inflammation and ultraviolet light. Next, lycopene may help hair growth and prevent scalp diseases like psoriasis and dermatitis. Watermelon boasts higher lycopene levels (and potentially greater bioavailability) than tomatoes.  Strawberries are high in fiber and vitamin C, the latter of which aids collagen synthesis and iron absorption.
ORANGE AND YELLOW
Orange and yellow fruits and vegetables are loaded with vitamin C and carotenoids, including beta-carotene. Beta-carotene converts into vitamin A within the body, promoting healthy vision and cell growth. Even further, the benefits of higher carotenoid consumption include fewer wrinkles and furrows in the skin.  Citrus fruits—which are typically orange and yellow (and sometimes green)—contain a unique phytonutrient called hesperidin. Hesperidin helps increase blood flow, making it ideal for those with poor circulation.
GREEN
Green fruits and veggies are rich in lutein, isothiocyanates, and isoflavones. They also boast high levels of vitamin K, which is essential for blood and bone health.  Specifically, cruciferous vegetables—such as broccoli and Brussels sprouts—enhance immune function. Dark, leafy greens may improve mood and increase collagen production due to its vitamin C content.
BLUE AND PURPLE
Blue and purple fruits and vegetables are rich in phytonutrients that can help repair skin damage caused by sun exposure. They also include resveratrol—the same antioxidant compound found in red wine—and anthocyanins. Anthocyanins have been studied extensively for their ability to preserve skin health and prevent skin aging. Also, studies show that the active phytochemicals in berries repair damage from oxidative stress and inflammation.
WHITE AND BROWN
Cauliflower is a cruciferous vegetable rich in sulforaphane, which may protect skin from UV-induced photodamage. Garlic and onions are in the allium family of vegetables, boasting antioxidant and prebiotic activities. Garlic also has antibacterial properties, making it beneficial to eat when fighting a cold.  mushrooms provide many major nutrients that improve skin health, including riboflavin, vitamin D, zinc, and selenium. Additionally, the anti-inflammatory and antioxidant properties of mushrooms can help calm rosacea.