January 8, 2018 – Bond Clinic is pleased to announce the opening of our First Street Campus!  Bond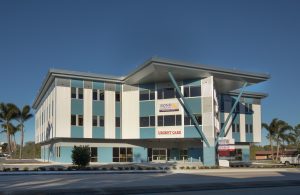 Clinic has been honored to offer quality healthcare since 1948 and during that time has purposed to meet the ever growing needs of our thriving community. Our new campus will accommodate expanded Urgent Care and Pediatric Departments, a new Cancer & Research Center and 24 physicians and nurse practitioners.
At 36,000 square feet, we are delighted that this campus will allow us to increase the services available close to home.  The first floor which houses new Urgent Care and Pediatrics opened on January 8th and we will be opening the 2nd and 3rd floors within the next two weeks.  If our patients have any questions, they can call 293-1191 ext3286 or 3351 for more information.
First Floor Opens January 8th
Amelia Calderon, ARNP
KC Davidson, ARNP
Brian Harte, ARNP
Courtney Jones, CPNP
Lorrie Jones, ARNP
Kenny Nguyen, MD
Deloris Reed, ARNP
Liem Ton, MD
Heather Torres, CPNP
Urgent Care
Infusion Center
Second Floor Opens January 15th
Charla Bailey, ARNP
Barry Cayson, ARNP
Panagiotis Iakovidis, MD
Pamela Reyes, MD
Juan Rivera, MD
Jesse Romeu-Velez, MD
Jorge Torres, MD
Pulmonary Function Testing
Vascular Ultrasound
Third Floor Opens January 22nd
O. Abu Hlalah, MD
Jeffrey Peng Hou, MD
Laurel Lawrence, ARNP
Sherif I. Ibrahim, MD
Michele McClendon, DO
Michelle Rampersad, ARNP
Samantha White, ARNP
Cancer & Research Center