incontinence
Woman to Woman Magazine: Summer 2015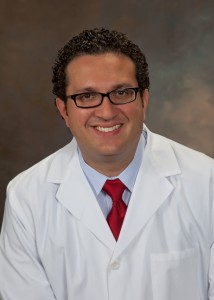 Story by Lorrie Delk Walker
there…you said it. now, take a deep breath–it's more common than you think.
Many women have undergone surgery to correct urinary incontinence. It requires general anesthesia, cutting, suturing and a weeks-long recovery process.
Dr. Carlos I. Gabriel, a pelvic surgeon board certified in obstetrics and gynecology, has performed thousands of these surgeries.
He added electrostimulation therapy to his practice seven years ago and began prescribing this treatment to strengthen muscles prior to surgery in an effort to quicken the recovery process and achieve better surgical results.  And then women began canceling their surgeries…
As it turns out, the muscle strengthening designed to provide a quicker post-op recovery went a step farther and drastically improved – often even cured – incontinence. You could say Dr. Gabriel has become the bladder surgeon who essentially has given up surgery. He has gone from performing about three pelvic floor surgeries per week to about three per year.
Electrostimulation therapy painlessly supplies electrical pulses to the pelvic floor muscles, which causes them to contract for several seconds. Widely used for decades in Europe, this therapy has increased in popularity in America because it is almost as effective as surgery without the complications, side effects, down time and costs.
Electrostimulation therapy isn't the only treatment for incontinence, but it is among the best, Dr. Gabriel says. Medications work, but they have side effects such as blurry vision, dry mouth and constipation. Prescriptions are expensive, and patients must remain on the drugs forever to control the problem. Wearing pads helps prevent embarrassing accidents, but this offers no cure. Surgery is the gold standard and is most effective. However, it carries risks associated with general anesthesia, bleeding, infection, bladder and bowel injuries, urinary retention and painful intercourse.
The biggest barrier to treatment is the taboo nature of incontinence. Although it's a common condition, it's also embarrassing and women often don't seek medical intervention until the problem affects their quality of life. Incontinence brings about unpredictable leaking that leads to round-the-clock use of pads. This often results in skin rashes, a decline in desire for intercourse, and decreased partner satisfaction.
Incontinence also results in odor. Women may experience social embarrassment, depression and social isolation as a result of incontinence. They frequently stop exercising to help reduce the leaking. This only brings a new variety of problems related to health, obesity and weakened bones. The problem only worsens without treatment.
"Most women treat leakage as if it's a normal and common part of aging," says Dr. Gabriel. "It's common, but it isn't normal."
Urinary incontinence affects an estimated 13 million Americans. Six out of every seven cases of adult incontinence occur in women, and one in three women experience incontinence during their lifetimes.
The longer a woman waits to tell her doctor about incontinence, the tougher it is to treat.
"Women who come in for treatment while their case is mild can be cured of incontinence," Dr. Gabriel says. "For those who come in only once the condition becomes severe, returning it to a milder form is often the most we can hope for."
the better bladder solution
Electrostimulation therapy boasts a host of benefits. It is noninvasive, painless and natural, in that it restores the body's normal physiology as opposed to going in and surgically altering anatomy. It is covered by insurance and is nearly as successful as surgery, without the risk.
"This is world class care in your back yard," Dr. Gabriel says. "Treatment like this usually is only offered in the big bladder centers; the Mayo Clinics, Cleveland Clinics, and in other countries. It's a standard of care in other countries. We're way behind in America."
The worst-case scenario with this treatment is that there is no improvement.  "It is at no physical cost," Dr. Gabriel says. "Then we can proceed to other options.
This treatment is capable of treating surgical and medicine failures, so why not just start with electrostimulation?"
Dr. Gabriel is so confident in the therapy, he never offers surgery or medicines as the first line of treatment. He says he believes in taking the least invasive route first.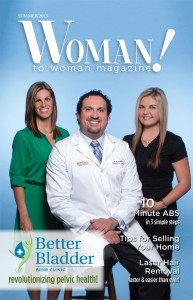 how it works
Leaking is caused by a weak urethra. The urethra and the kegel muscle control your bladder. Electrostimulation therapy makes those weak muscles stronger.
Diagnosis begins with a comprehensive evaluation to determine muscle strength. A pressure sensor is used to determine each individual's strength. A score ranging from 0 to 60 is assigned.
Women commonly score a seven or eight prior to treatment, and score 30 to 40 following treatment, Dr. Gabriel says.
The therapy involves electrical stimulation of the muscles. This teaches the patient which muscle to squeeze so they can continue exercises at home. The therapy provides a super-contraction, so muscles strengthen while doing the therapy. Acupuncture is also occasionally used.
By putting all of this together, he has an 87 percent success rate. Only 13 percent of patients may go on to require surgery. Dr. Gabriel has done more than 5,000 therapies in the past seven years with no complications.
Besides improving or curing incontinence, electrostimulation therapy helps three additional chief complaints among women.
weakened muscles following child birth
It is common for women to report decreased sexual satisfaction, painful intercourse and difficulty achieving orgasm after having a baby. In France, women routinely go through about two months of electrostimulation therapy approximately six weeks after giving birth to prevent future prolapse and to strengthen the pelvic floor muscles.
One third of all women who do kegel exercises perform them incorrectly, which provides no benefit. Some may opt for surgery to tack up the bladder and tack down the rectum. Electrostimulation therapy for about eight weeks following delivery can decrease problems down the road, preventing prolapse and the need for surgery. Many insurance plans cover this treatment.
pelvic pain
Women who experience painful intercourse, vaginismus (painful spasms), vulvodynia (chronic pain around the vaginal opening), interstitial cystitis (painful bladder), and spasms of the levator ani muscle often find relief from electrostimulation therapy.
Electrically stimulating the pelvic floor muscles causes the spasms to stop and stimulates the nerves. This causes the nerves to release anti-inflammatory hormones, which can reduce the swelling and injury to the nerve endings, thereby curing them. Dr. Gabriel says he has an 80 to 90 percent cure rate with this treatment. Ten to fifteen percent of patients may have a flare-up within a year which is quickly treated with repeat sessions.
non-invasive vaginal rejuvenation
We've all heard of labiaplasty and vaginoplasty as a solution to cosmetically restoring the vaginal area after a woman is finished having children. Electrostimulation therapy provides a nonsurgical rejuvenation comparable to these surgical procedures.
This procedure may be recommended for women who complain of overall vaginal looseness, decreased pleasure during intimacy, discomfort and decreased ability to reach orgasm.
Surgical options require removal of excess tissue followed by tightening of the tissues. Potential complications include infection and bladder injury, and there's a required recovery period of six to eight weeks. During this time, intimacy is out.
Electrostimulation therapy strengthens the muscles and preserves nerve function in the area. The result is improved patient and partner satisfaction, improved climax and decreased discomfort.
This cosmetic procedure evolved from treating incontinence.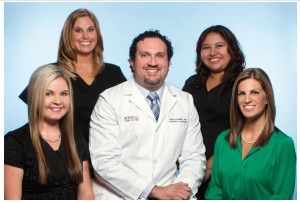 "We discovered this because many of our patients that were being treated told us that their sex life was more enjoyable following treatment," Dr. Gabriel says. "We then started having patients ask for therapy just to improve their sexual health."
This innovative therapy has changed Dr. Gabriel's way of thinking and his approach to these common female problems.
"My philosophy is that no one should have medicine or surgery until they've gone through this therapy first," he says. "Women are beginning to recommend this therapy to their friends, but we still have to overcome the taboo nature of incontinence."
Dr. Gabriel, founder and medical director for the Better Bladder Center in Winter Haven and Lakeland, uses electrostimulation therapy to resolve a variety of bladder and pelvic concerns in women, including:
• Urinary Incontinence
• Weakened Muscles Following Child Birth
• Pelvic Pain
• Vaginal Looseness
For more information about Dr. Gabriel, please click here.