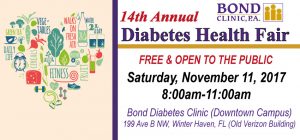 The Bond Clinic Diabetes Clinic is happy to be hosting their 14th Annual Diabetes Health Fair.  This event will be completely focused on diabetes, including: prevention, managing a healthy life style and resources to achieve individual goals.
There will be many on-site, free screenings covering areas effected by diabetes such as Foot, Vision, A1c, Vascular and Hearing.  Also, we will have seminars given by Bond Clinic Physicians covering multiple topics.
Come visit dozens of vendors who will have information and support for the Diabetic Community.
Date: Saturday, November 11, 2017
Time: 8:00am – 11:00am
Location: Downtown Campus (Old Verizon Building)
199 Ave B NW, Winter Haven, FL