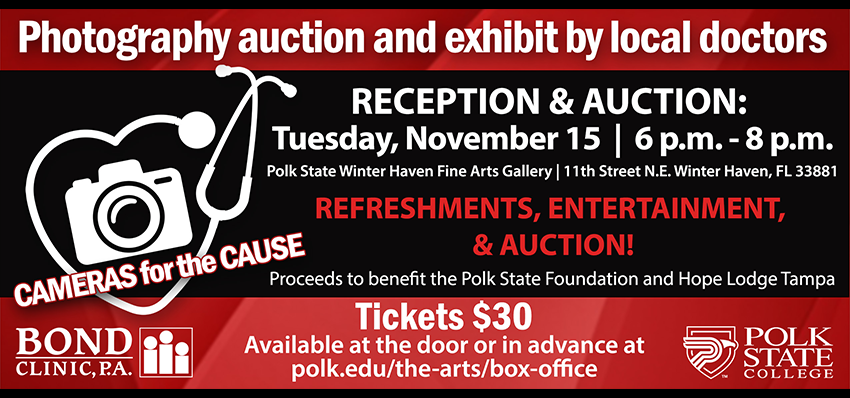 Back in 2019, Dr. Michele McClendon, a Nephrology Specialist at Bond Clinic, started an event through Bond Clinic called "Cameras for the Cause – the Doctors Show." This event was a community exhibit highlighting local photography from Polk County physicians and helped raise over $15,000 for the Hope Lodge of Tampa. After several years of absence do to Covid, Bond Clinic, P.A. and Polk State College are announcing the return of this event for a second year.
"Cameras for the Cause – the Doctors Show" returns with over 50 participating entries and this year's event is expected to increase in attendance. "Cameras for the Cause allowed our community to see another side to these doctors and help raise funds for local programs," says Ashley Scanlan, Bond Clinic Marketing Director. "We are excited to be back after three years and sharing brand new photos at Polk State College."
"Cameras for the Cause" is a compilation of original photography work primarily from Bond Clinic Physicians, but will include pieces from additional doctors in the area.  Thanks to the generosity of Polk State College, the art is currently on display for the public to view in the Winter Haven Fine Arts Gallery at Polk State College from September 22, 2022 through November 15, 2022.
The highlight of the month long exhibit will take place on Tuesday, November 15, 2022 from 6-8pm with a reception and silent action event. All of the art will be auctioned with proceeds going to the Hope Lodge, a facility where oncology patients can find housing while they are being evaluated and treated at Moffitt Cancer Center & to the Polk State College Foundation.
Cameras for the Cause is meant to be a casual community evening complete with live music and food. Tickets may be purchased at the door for $30 or in advance at polk.edu/the-arts/box-office.