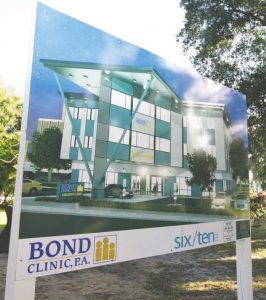 At Bond Clinic, we strive to provide quality health care to Winter Haven and the surrounding region. Bond Clinic is a professional association made up of over 70 providers encompassing 25 specialties. Founded in 1948, Bond Clinic was one of the first businesses in downtown Winter Haven. Since that time, our goal as been to bring comprehensive, personalized, state-of-the-art health care to our community.
Bond Clinic was founded in 1948 by four physicians, Dr. Benjamin Bond , Dr. Rita Marotti, Dr. T.C. Keramidas and Dr. William T. Steele.  They opened their first office in June 1949 in Downtown Winter Haven on the corner of Ave A NW and 3rd Street, right above the local drugstore. We never strayed far from downtown. By 1954, Bond Clinic had expanded to 6 physicians, adding Dr. Sam Garrett and Dr. George Dorman. That year they opened a new facility directly across from Winter Haven Hospital on First Street. In 1978, Bond Clinic had once again outgrown its location and moved to its main campus at 500 E. Central Avenue.
In 2007, Bond Clinic opened it's Downtown Winter Haven satellite location at 199 Ave B N.W. This location houses Patient Accounting Office, Anti-Coagulation Clinic, Laboratory and Phlebotomy station, the Bond Clinic Women's Health Center, the Bond Diabetes Clinic, Bond Spa & Aesthetics and the offices of Drs. Miller, Rivera, Gatto, Gabriel, Kenaan and Salamon. Radiology services at this location include the open high-field MRI, Digital Mammography and 4D Ultrasound.
In 2015, our long awaited East Campus was opened and became the home of our Orthopedics & Sports Medicine and Physical Therapy Departments.  This campus is conveniently located off of Cypress Gardens Blvd at 3000 Woodmont Ave.  The offices of Drs. Lerner and Morin and their Nurse Practitioners are located here.
In 2016, our Davenport Campus was officially opened.  Currently this is the home of Primary Care Physician, Dr. Evelyn Rentas.  She is Board Certified in Internal Medicine and excited to serve the residents of Davenport and the surrounding area.
In October 2016, city officials joined Bond Clinic board president and CEO Dr. Panagiotis Iakovidis in breaking ground on the clinic's ninth campus location, a joint venture with Six/Ten Development on First Street in the heart of the downtown business area.  The $8.2 million, 36,000 square foot, three-story building with a modern facade will house offices for many new doctors, some who are moving from their existing locations and will almost triple the size of the clinic's Urgent Care Center. The new building is being built where there was once a vacant lot, according to the Bond CEO. The new facility is being built by Everett Whitehead and Son and was designed by WMB Architecture, both of Winter Haven.