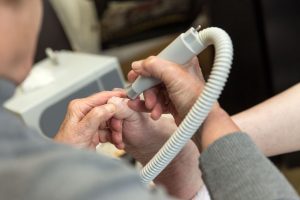 Podiatry treatment is a type of treatment that focuses on the health of feet. To make sure that your feet are in good condition, it is important to seek the services of a podiatrist for treatment.
The feet are very important organs of the body; they are responsible for movement and all type of mobile activities. It is important to take care of your feet to live a comfortable life without stress. If detected early, most of the feet deformities can be avoided before they become worse.
Why you should see a podiatrist
Maintain overall health of feet
Seeing a podiatrist is a good way of maintaining the overall health of the feet. The feet are susceptible to all types of illness and disorders that are likely to affect movement and overall health. For instance, there is a disease that affects the feet like athletes foot, and they need to be addressed early enough before they cause any trouble.
There are also embarrassing conditions that affect the feet like cracked heels and also bad odor from feet. All these conditions are treatable by a podiatrist and allow you to live a normal life. During your visit, the podiatrist will diagnose and treat conditions even before they appear.
Avoid and ease pain on the feet
Managing pain in the feet is one of the main benefits of visiting a podiatrist. If you are suffering from foot pain, this is something that can be treated. Foot pain can be caused by various foot conditions like athletes' foot, cracked hills and also fungal infections.
These underlying conditions if not treated on time can cause a lot of problems in the future. Some people tend to ignore these signs and look for beauty treatment, but this does not solve the problem because it only covers the condition for a short period.
Determine the right footwear
You might be surprised that not everyone has an easy time finding footwear. There are people who have unique feet shape and sizes, and this makes it very difficult when trying to buy footwear.
The best way to determine the type of footwear for you is to get advice from a podiatrist. This is a good way to avoid wearing footwear that ends up causing pain and discomfort for a long period.
Bond Clinic is happy to welcome a new doctor to  our Podiatry & Foot Surgery specialty.  Dr. Christopher Englert is accepting new patients and you may reach his office by calling 863-293-1191 ext3060.