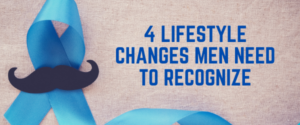 June is Men's Health Month – a medical campaign initiative brought about highlighting, discussing, and reinforcing the importance of a healthy lifestyle. However, let's be honest; men can be stubborn when visiting a doctor or maintaining their health. Most tend to shrug off unusual medical symptoms and commonly avoid seeking help until the last minute. So let's see if we can change this perception by taking a little time in this month's blog to go over a few simple lifestyle changes that can help improve your overall health.
Eating Healthy
Eating the right way is probably the most common lifestyle change that anyone can recommend to get healthier. Try to avoid packaged or processed foods. These foods are often full of sugar, salt, unwanted fats, and artificial flavors that can add to your calorie intake. Fresh fruits and vegetables, whole grain products (like brown rice or bread), fiber-rich foods (beans or leafy greens), lean cuts of meat and poultry, and fish contribute to a healthier body and weight. Almost every one of these foods will provide you with rich vitamins and minerals.
Get Up and Go!
The title says it all, get moving! Exercise is a valuable lifestyle change that has several benefits. For example, simply going for a walk for 30 minutes a day has increased oxygen levels in the blood, relieves stress, and supports muscle memory. Do anything that will help encourage you to move, like swimming, jogging, or playing a sport. In addition, regular exercise for men is one of the best ways to prevent heart disease, which is currently the leading cause of death among American men.
Ending Unhealthy Habits
By ending just one of the following bad habits, your body has a fighting chance to become healthy again:
Smoking and breathing in secondhand smoke are both detrimental to your overall health. Each one can make it difficult to breathe and contribute to the development of several other medical conditions.
Monitor your alcohol intake. When consuming alcohol, do so in moderation. For men, it is recommended not to drink more than two drinks per day.
Stop any recreational drug use. Currently, there are too many health conditions related to the ongoing use of recreational use.
Getting Checked Out by a Medical Professional
As we mentioned earlier, men can be stubborn when needing a doctor, but it is essential to visit your physician every year for ongoing care and check-ups. A doctor can provide you with a medical plan to address your needs and make adjustments over time. If you haven't been to your physician lately, try to make an appointment soon.
If we at Bond Clinic can provide any assistance during Men's Health Month, please give us a call at 863-293-1191 to schedule an appointment with one of our qualified medical providers.
Written by: Jared White, Assistant Marketing Director at Bond Clinic.