Each year, Medicare offers an Open Enrollment season.  Whether you are aging-in or have been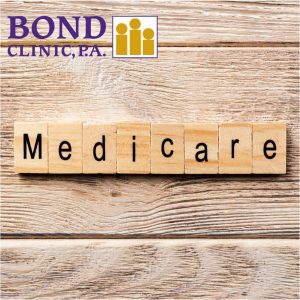 a Medicare recipient for years, this is a great time to research the new options that each plan has available.
At Bond Clinic, we understand that it is an important decision when choosing the plan that is best for you.   Which is why we offer dozens of seminars, on-site, with representatives you can trust.
If you want to attend a seminar at Bond Clinic, an RSVP is required for entry.  Please call 863-293-1191 ext 3351 or 3286 to reserve your seat.
Seminars are being held at our Downtown Campus: 199 Avenue B NW, Winter Haven, FL 33881.
In addition, we know that with COVID you may prefer a private meeting or phone call, so we have provided the name and contact information of our assigned representative.
View below the seminars we are hosting at our campus and click here to see a full list of the Medicare Plans we accept.
CarePlus
Thurs, October 15 – 1pm, Seminar
Wed, October 21 – 11am, Seminar
Fri, October 23 – 10am, Seminar
Wed, October 28 – 11am, Seminar
Wed, November 4 – 11am, Seminar
Fri, November 6 – 10am, Seminar
Wed, November 18 – 11am, Seminar
Careplus Agent
Florida Blue
Tues, October 13 – 2pm, Seminar
Thurs, October 15 – 10am-12pm, Q & A Session
Tues, October 20 – 2pm-4pm, Q & A Session
Thurs, October 22 – 10am-12pm, Q & A Session
Tues, October 27 – 2pm-4pm, Q & A Session
Thurs, October 29 – 10am-12pm, Q & A Session
Thurs, November 5 – 10am-12pm, Q & A Session
Tues, November 10 – 2pm-4pm, Q & A Session
Tues, November 24 – 2pm-4pm, Q & A Session
Florida Blue Agent
Devoted
Mon, October 5 – 10am, Seminar
Mon, October 12 – 10am, Seminar
Mon, October 19 – 10am, Seminar
Mon, October 26 – 10am, Seminar
Mon, November 2 – 10am, Seminar
Mon, November 16 – 10am, Seminar
Mon, November 23 – 10am, Seminar
Mon, December 7 – 10am, Seminar
Devoted Agent

Matthew Garcia
863-529-6878
Humana
Thurs, October 8 – 1pm, Seminar
Thurs, October 22 – 1pm, Seminar
Thurs, November 5 – 1pm, Seminar
Thurs, November 12 – 10am, Seminar
Tues, November 17 – 10am, Seminar
Thurs, November 19 – 10am, Seminar
Humana Agent

Sherri Thomas
863-512-7726
Medicare Connections (Broker)
Mon, October 19 – 2pm, Seminar
Mon, October 26 – 2pm, Seminar
Tues, November 3 – 2pm, Seminar
Mon, November 9 – 2pm, Seminar
Agent

Chris Carroll
863-393-8095
United Healthcare
Wed, October 14 – 10am, Seminar
Wed, October 21 – 1pm, Seminar
Wed, October 28 – 1pm, Seminar
Wed, November 4 – 1pm, Seminar
Mon, November 9 – 10am, Seminar
Wed, November 18 – 1pm, Seminar
Wed, November 25 – 1pm, Seminar
Mon, November 30 – 10am, Seminar
United Healthcare Agent

Krissy Goodison
863-272-9192