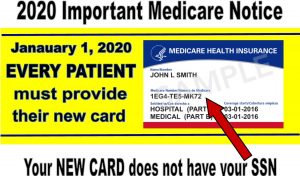 Dear Bond Clinic Patients with Medicare Insurance,
Beginning January 1, 2020, EVERY PATIENT with Medicare Insurance will be required to provide their new Medicare Card.  The easiest way to tell if you have the updated card is by looking at the Medicare Number.  The new card does not have the patients Social Security Number, but a combination of letters and numbers.
How do I request a new card? 
sign in to your MyMedicare.gov account to print an official copy of your Medicare card. If            you don't have an account, visit MyMedicare.gov to create one.
call us at 1-800-MEDICARE (1-800-633-4227). TTY users can call 1-877-486-2048.
Can I still use my old card?
Beginning January 1, 2020, patients are required to use their new card.  If we do not have it on file, patients will be responsible for the full payment.
For more information or to confirm you have the updated card on file at Bond Clinic, please call 863-293-1191 x3356 or x3357.