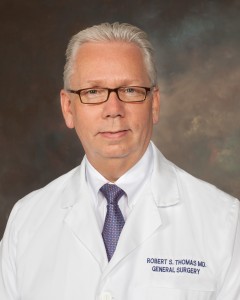 Robert S. Thomas, MD
General Surgery & Surgical Oncology
Phone (863) 293-1191 x3454
Fax (863) 295-9216
General Surgeon – Robert Thomas, MD has been engaged in the practice of general surgery and surgical oncology since 1988. He is Board Certified and fellowship trained in Surgical Oncology. Dr. Thomas treats patients with a variety of surgical conditions including benign and malignant diseases of the breast, intestines, soft tissues and gallbladder as well as all types of hernias.
He has experience in the use of advanced laparoscopic and robotic techniques to manage these conditions. Most recently, Dr. Thomas has been offering robotic-assisted single-site gallbladder surgery which offers patients the advantage of having their gallbladder surgery through a single one-inch
incision at the umbilicus while still going home on the same day.
Master of Science – Health Care Ethics
Creighton University
School of Medicine
Omaha, NE
2014
Fellowship in Surgical Oncology
University of Miami School of Medicine
Division of Oncology / Department of Surgery
1991-1993
Residency in General Surgery
Tripler Army Medical Center
Honolulu, HI
1984-1988
Internship in General Surgery
William Beaumont Army Medical Center
El Paso, Texas
1982-1983
Medical Degree
University of Missouri
Kansas City, Missouri
1982
Related Articles:
More Change Coming for Surgeons, Patients