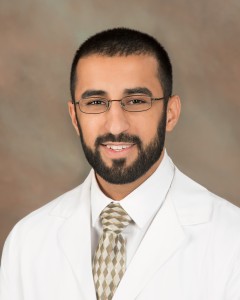 Muhammad Mustafa, MD
Cardiology
Phone (863) 293-1191 x3527
Fax (863) 837-5394
Cardiologist – Dr. Muhammad Mustafa is board certified in Cardiovascular Disease, Nuclear Cardiology, Adult Comprehensive Echocardiography and Internal Medicine.
Dr. Mustafa specializes in clinical cardiology, echocardiography, TEE and nuclear cardiology stress testing.
He is also the current Medical Director of Echocardiography and Medical Director of Nuclear Cardiology at Winter Haven Hospital.
Cardiology Fellowship
Robert Wood Johnson Medical School
New Brunswick, NJ
2012-2015
Internal Medicine Residency
Robert Wood Johnson Medical School
New Brunswick, NJ
2009-2012
Medical School
Rutgers University & Robert Wood Johnson Medical School
New Brunswick, NJ
2006-2009
Dr. Mustafa's interests include, but are not limited too:
Hypertension
Hyperlipidemia
Arrhythmias
Congestive heart failure
Cardiomyopahty
Coronary artery disease
Valvular heart disease
Pericardial disease
Structural heart disease
Advanced echocardiography
Transesophageal echocardiography
Stress echocardiography
Treadmill stress test
Nuclear stress test
Tilt table test
Direct current cardioversion
Affiliations:
American College of Cardiology
American Heart Association
American Society of Nuclear Cardiology
American College of Physicians