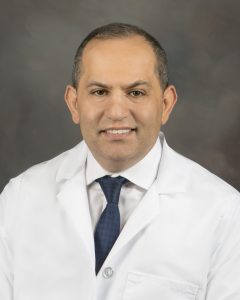 O. Abu Hlalah, MD
Oncology & Hematology
Phone (863) 293-1191 x3632
Fax (863) 293-7901
O. Abu Hlalah, MD is board certified in Medical Oncology and is fellowship trained in Hematology and Oncology.  Dr. Hlalah joined Bond Clinic in 2008 and leads the Bond Clinic Cancer & Research Center.
Fellowship in Hematology and Oncology
East Tennessee State University
Johnson City, TN
2003-2005
Residency in Internal Medicine 
Mercy Catholic Medical Center
Philadelphia, PA
2000-2003
Medical Degree (MBBS)
University of Jordan
Amman, Jordan
1995
In 2005, Dr. Hlalah moved to Kentucky to serve as attending Hematologist/Oncologist at Kentucky Cancer Clinic and ARH Regional Medical Center in Hazard, KY. During that time he was involved in multi-center clinical trials in breast, lung, and colon cancers, lymphoma and anemia research.
Dr. Hlalah continued his work as a Consultant Attending Oncologist at King Hussien Cancer Center in Amman, Jordan where he focused on bone marrow transplantation, genitourinary and head and neck cancer services in addition to his general Hematology/Oncology practice.
Related Articles
New treatments are helping men live longer with prostate cancer