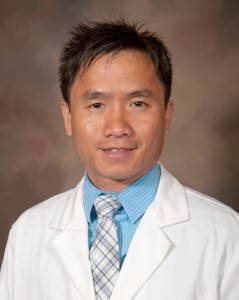 Kenny Nguyen, MD
Pediatrics
Phone (863) 293-1191 x3633
Fax (863) 293-2770
Pediatrician – Kenny Nguyen, MD is board certified in Pediatrics and has been practicing at Bond Clinic since 2007.  His department offers Urgent Care and includes four Pediatric Nurse Practitioners.
Office Hours:
Monday-Friday 8am-8pm 
Saturday: 8am-5pm
Saturday-Sunday: 8am-2pm
Walk-ins are welcome. *We are closed from 12-pm for lunch. Holiday Hours may vary.
Residency in Pediatrics
Metro Health Medical Center
Case Western Reserve University
Cleveland, Ohio
2007
Internship in Pediatrics
Metro Health Medical Center
Case Western Reserve University
Cleveland, Ohio
2005
Medical Degree
Ross University of Medicine
Portsmouth, Dominica, West Indies
2004
Dr. Nguyen's clinical interests include, but are not limited to:
• Childhood Obesity
• Attention Deficit Hyperactivity Disorder (ADHD)
• Duchene Muscular Dystrophy
Dr. Nguyen and the Pediatrics Department at Bond Clinic offer the following services to patients from infancy through adolescence:
• Athsma Therapy
• Fluoride Varnish to promote healthy teeth
• Immunizations
• Incision and drainage of abscesses
• Ingrown toe nail – surgical treatment
• IV fluid re-hydration and infusion
• Laceration repair
• On-site X-ray
• Physicals
• Splinting
• STD testing and treatment
Related Articles:
Bond Clinic Pediatrics Offers Many Services
Meeting the Need: Nurse Practitioners Help Ease the Strain in Health Systems