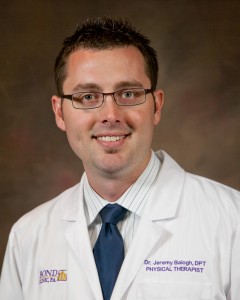 Jeremy S. Balogh, DPT
Director of Physical Therapy
Phone (863) 293-1191 x3701
Fax (863) 508-2277
Dr. Balogh is a clinical doctor of Physical Therapy. He specializes as a golf rehab specialist for common injuries such as lower back, shoulder, knee, hip, ankle and wrist.
Doctoral Studies
University of South Florida: College of Medicine, School of Physical Therapy & Rehabilitation Science
Tampa, FL
May 2011
Bachelor degree in Exercise Science and minor in Biology
Warner University
Lake Wales, FL
Jan 2007
Physical Therapy Clinical Experiences
The Nursing Center at University Village
Tampa, FL
June – July 2009
Competitive Edge Performance Inc.
Oldsmar, FL
May – July 2010
James A. Haley VA
Tampa, FL
Jan. – April 2011
Memberships:
American Physical Therapy Association, Member
Florida Physical Therapy Association, Member
Related Articles:
Bond Clinic Named the Official Medical Provider for the Florida Tropics
When is it Time to Visit Physical Therapy?
East Campus Open House/Ribbon Cutting
Bond Clinic Partners with Florida State Soccer for Medical Services